/

Fact Sheet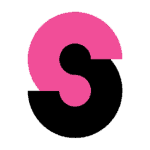 Established: 1999
---
Entertainment / Education / Renewable Energies
---
Locations :
Lausanne, Paris, Biarritz, Berlin, Marseille, Tel-Aviv, Hong-Kong
Fun
Interactive
Innovative
Creative
Education​al
Societal
Eco-Friendly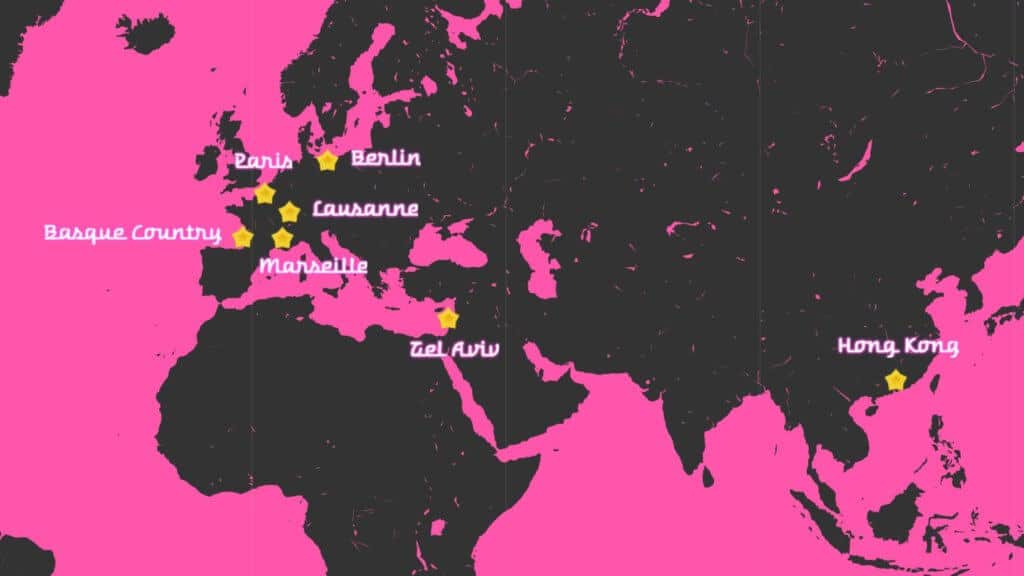 ​24h/24
solar powered web-radio
Milestones
Launched Lausanne : ​June 1999
​Launched Paris : 2000
Launched Marseille : 2005
Launched Berlin : ​2017
Launched Biarritz : ​2017
Launched Tel-Aviv : ​2017
​Launched Hong-Kong : ​2018
Presence
Music Festival
COPs (21,22,23 …)
Public Parks
Malls and Museums
Talks and Conferences
Local and International
Schools
Cocktail Parties
Brand Activation
Team Building operations
Awards & Conferences
Polytechnico, Milan (2002)
Recognized by Unesco as : Activity of the decade for education towards sustainable development (2004 – 2014)
Europeean program on Energy, FEEDU,
Lubjana, Slovenia (2007)
Shristi School, Bengalore (2012)
Tech 4 dev, UNESCO chair, EPFL Lausanne (2013)
EE Music Europe Awards 2015
Labelled COP21 (2015)
Invited by the MIT at "Future Energy Summit" (2017)
Conference : Ted X Lille (2015)
Conference : COP23, "Innovation and collective imagination: (2017)
Conference : "Open field art and sciences festival", Riga (2016)
Conference : Cadiayyad University, Marrakech (2016)
Labelled Solar Impulse (2020)
Artists Collaborations
Matt Black (Coldcut / Ninja Tunes)
Boris ( Panorama Bar )
Dj Yellow
Alek Lee
Qzen
Civil Civic
Kolkoz
Tomás Saraceno
Vlad Bretan
Jay Ka
Dates and Festivals
Art Basel (2009)
Montreux Jazz Festival
SAY WATT ? Sound System exhibition in Paris (2013)
Nuits sonores
Techno Parade
Space to Breathe, London
Institut du monde arabe
Élysée
Art Basel Miami (2018)
/

NGO Backgrounder
OVERVIEW
Solar Sound System offers sound systems powered by the sun and bicycles for events, as well as an educative tool to introduce sustainability to the public. Thanks to its design, participants can enjoy music with 100% renewable energy generated speakers, turntables, and sound mixers. The community gets the opportunity to see solar panels working first hand and to participate in the production of electricity through bicycle power.
Since 2016, Solar Sound System also has their own solar powered radio station, Radio3S.org. Online 24 hours a day and 7 days a week, the station broadcasts events, shows and documentaries, running solely on solar energy.
OUR VISION
With 7 active branches in Lausanne, Paris, Marseille, Berlin, Biarritz, Hong-Kong and Tel-Aviv, and more than 600 events, the organisation aims to teach the public about the ease of renewable energy use, and to inspire them to take steps to lower their reliance on fossil fuels.
The organization aims to expand worldwide based on a franchise model. Potential managers can fill a form at this address : bit.ly/OpenSolarAntenna
SolarSoundSystem is keen in spreading it's original values of ecology, culture and professionalism everywhere it's active.
GAINSPAN MARKETS
Public Events : Music Festival, Public Parks, Schools
Private Events : Cocktail Parties, Malls and Museums, Brand Activation, Team Building operations
Governments : COPs (21,22,23 …)
Institutions : Local and International, Talks and Conferences
Non-Profits : Street Parties, Positive social actions
HEADQUARTERS: 236, rue de Paris 93100 Montreuil, France
EXECUTIVE TEAM
Cédric Carles, Founder, Operations, manager Paris branch, Business Development, Engineering, manager Station-E.
Thomas Ortiz, Co-Founder, Business Development, Engineering, Operations
Rubens Ben, Co-Founder, Communication, Business Development, Radio Manager, Operations, Manager Tel-Aviv branch.
Laure Schwarz, Manager Lausanne branch.

Francois Dutron, Manager Basque-Country branch.
Aymeric Vollant, Manager Hong-Long branch.
Julien Destrade, Manager Berlin branch.
Loïc Rogard, Manager Marseille branch.
/

Quote Sheet
you guys have a perfect set up, great stuff ! People pedal, the music keeps playing
Incroyable, extraordinaire
The Solar Sound Project is a deceptively simple use of technology to integrate into the art and culture of ordinary people, in lands where modern technology's impact is largely indirect. It will provide a bridge for artists, for whom circumstance has them on the deprived side of the economic and digital divides, to explore the opportunities of new media from their traditional strongholds.
This invention is so incredible that it brings tears to my eyes
An invention absolutely essential to your summer and spring evenings
its unique position between practicality and design, between social message and entertainment will no doubt ensure its success in the future
/

Frequently Asked Questions
Autonomy, how long the machine can operate ?
With Full Sun and/or people cycling

: Unlimited
With Partial Sun / Clouds

:

Without bicycles : 5 Hours
With bicycles : 6 to 8 Hours
With Full Clouds / Rain

:

Without bicycles : 2 hours
With bicycles : 4 to 8 hours
When no sun and no bicycles

, the machines have an autonomy of 4 hours.
Does it fits for bands, and other performances ?
For sure, our machines are built for any type of events that need amplification : Dj, concerts, conferences, yoga, sound healing, workshops and more.
What's the ecological impact of the solar panels ?
All electronic equipment can cause these concerns, and whereas many electrical goods are only designed to last for a couple of years,
PV panels are expected to last for at least 30 years.
Furthermore, PV panels are used in place of other sources of electricity which have a much greater environmental impact per unit of electricity generated.
The main component of most PV modules is silicon, which isn't intrinsically harmful, but parts of the manufacturing process do involve toxic chemicals and these need to be carefully controlled and regulated to prevent environmental damage.
If you pedal faster, does it make the system louder ?
No, even if we have done that in the past, and that it was entertaining and fun, we are hosting renowned Dj's and artists with the aim to demonstrate that renewable energies are reliable and can substitute to our energy needs.
Do you have any other activities aside SolarSoundSystem ?
Yes, one of our slogans is "Dance for the Planet". SolarSoundSystem is a creation of Atelier21.org, a think-tank leading other projects related to energy, such as RegenBox or Paleo-Energetique. Thanks to the SolarSoundSystem rentals, we can finance research.

/

Hi-Res Images
Click on the image to download high res press photos or download the package below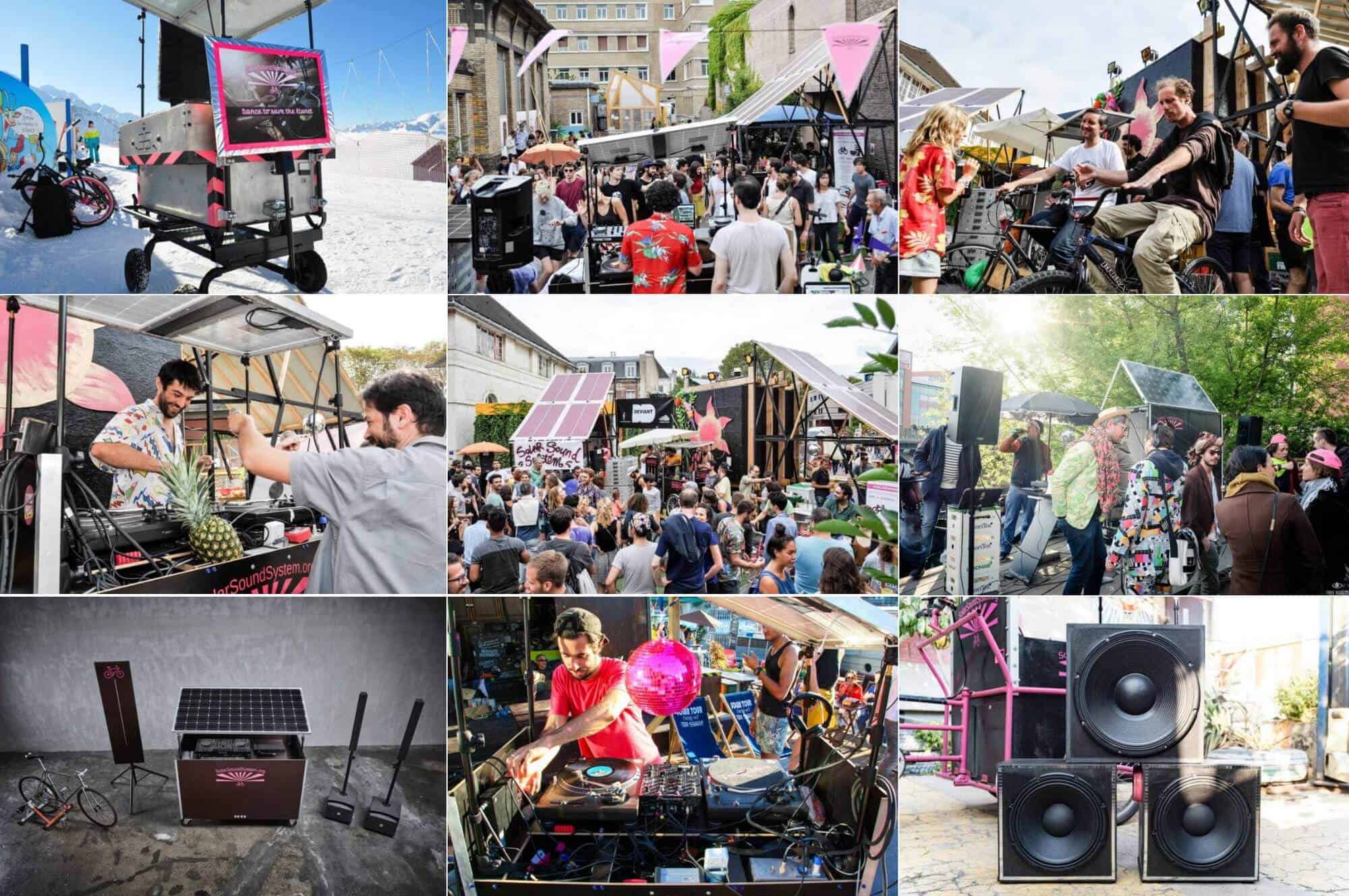 /

Audio
/

Videos
/

Logos
Click on the image to download logos or download the package below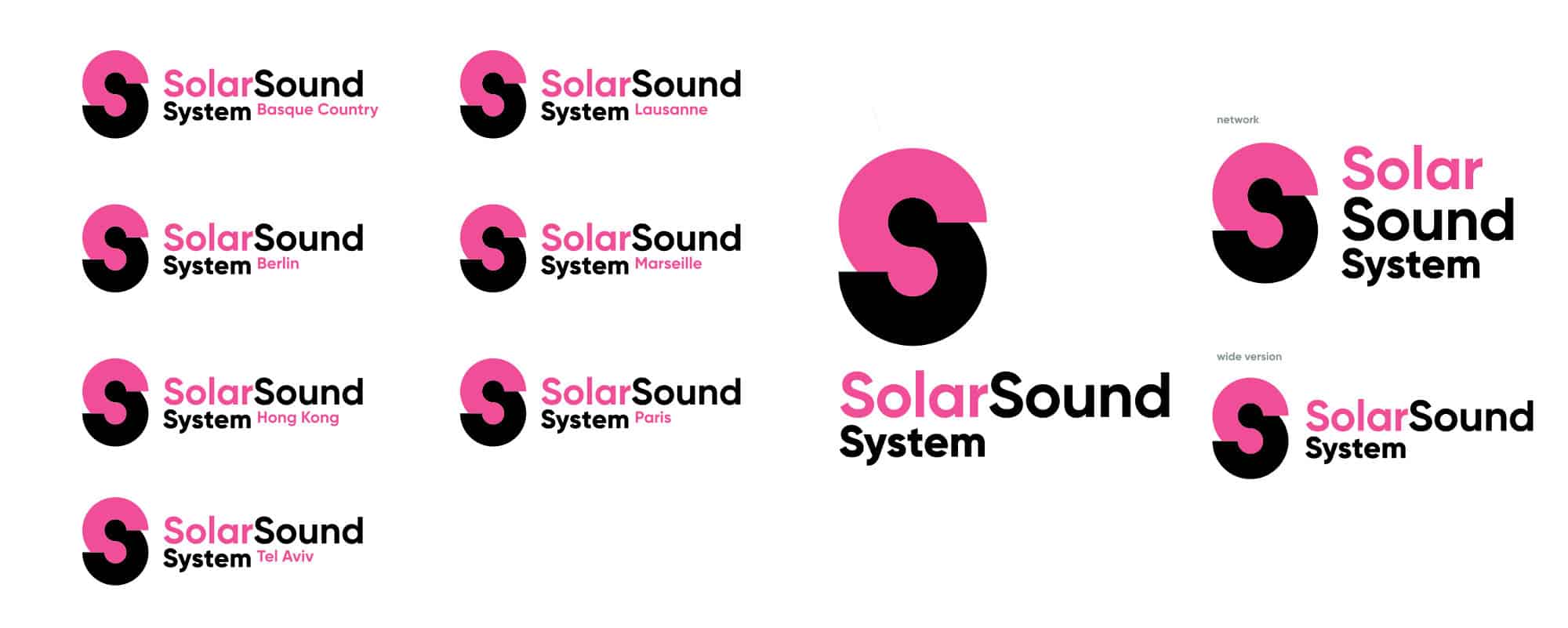 /

Social Networks
Facebook : 11213 Followers
Paris : 5160
Lausanne : 553
Berlin : 852
Basque Country : 1262
Hong-Kong : 733
Tel Aviv : 1446
Marseille : 852
Radio 3S : 1050
Instagram : followers
Twitter : 800 followers
Youtube : 80 subscribers

Mixloud : 267 followers
Soundcloud : 290 followers
Newsletter : 10 000 contacts
/

Contact
HQ postal Address

: 236, rue de Paris, 93100 Montreuil, France
Cedric

: +33 6 48 25 18 56

Thomas

: +33 6 68 12 29 41

Rubens

: +972 5 85 68 43 55